Welcome and thank you for visiting my site! I hope you find it to your liking and easy to get around.
I apologise for the glitch I seem to have in my ABOUT page….. will have to rectify it later!!
Latest news….!
"WIDE OPEN SPACES"
DATE     19 – 30 OCTOBER, 2015
TIME      WEEKDAYS 7AM – 7PM
PLACE   THE LOBBY, BROOKFIELD PLACE, 125 ST GEORGE'S TCE, PERTH
Dear friends and art lovers alike,
It's time again to get my collection 'out there'! I have over 40 pieces on display, an eclectic mix of inland, sky and coast, all under the fitting umbrella of 'Wide Open Spaces'. This sense of vastness is reinforced each time I return home from my travels…..and it fills me with joy. We are definitely in the lucky country!
I hope you will allow yourselves time out to venture into the city to enjoy my artwork. Parking is easy. I park in CCP Car Park in Murray St and walk out Hay St end near his Majesty's Theatre. It is just a few minutes walk south to Brookfield Place…. a niche of cafes in a business hub.
Love and best wishes,
Linda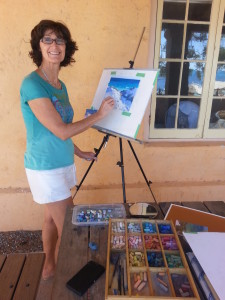 Casual Pastel Classes
For those past students and a few "newies" who have expressed interest, I have just started up my casual classes again with the usual time slot of 9.30- 12md and remaining at $30 per session.
All levels including absolute beginners welcomed! Held in my airconditioned studio in Karrinyup
Small class numbers for a personal, quality approach
Tuesdays or Fridays 9.30 – 12
Please feel free to contact me for further details at lindaobrien@optusnet.com.au or 0402308174
Want to increase your skills? Stuck? Have been using pastels for a while now but not too happy with your progress or results? Want to short track? Feel like you could do with some pointers to rekindle your enthusiasm?
Do you find yourself asking the questions…. where do I go from here?…..I know there is something not quite right, but what is it?
Private Tuition One off/casual or ongoing could be the answer!
Expert tuition is available to suit your own special requirements in my home studio in Karrinyup. I am flexible with hours.
Please feel free to contact me with any queries you may have.